So a couple of years ago, when I wrote Marshal of Hel Dorado, I was told repeatedly that mashing up genres doesn't work. Readers, you see, will be confused if they can't pigeonhole the book. Western romance, paranormal romance, western historical romance, cowboys, shapeshifters, firestarters, and other mutant abilities don't belong in the same book.
Vampires Are Dead, too
I've been hearing for years that vampires were on their way out. Werewolves, too. Don't bother to write witches. Angels are the hot thing. No wait, angels are dead. Superheroes are too comic book. Oh my God, superheroes are hot. Westerns are dead. Well, okay maybe they aren't dead. Trends, you see, they rule and everyone is always hoping to jump ahead and land ahead of that curling wave and ride it all the way to success.
But none of that helped me when I decided I wanted to write a paranormal set in a world with no technology. Where else would be better than the Old West, when the speediest mail was the Pony Express and the telegraph didn't stretch across the country, heck, the transcontinental rail wasn't complete yet.
X-Men Meets Young Guns
A lot of my early beta readers liked it because it was so different, mutants in the Old West, but not mutants because they were born that way--but because they survived a virus that killed nearly everyone infected with it. Those who survived were changed, on a genetic level. Granted, we didn't have genetic studies in 1851, but a person can't generate real fire or shape shift into a wolf without something going on.
First round publishers who checked it out loved the writing, but didn't feel it would sell because like the post title says, mash-ups don't work.
Fevered Hearts
Determined to see my boys out in the world, I went the self-published route and four books later, I am thrilled to say that mash-ups do work, readers do respond and they seem to love my boys as much as I do. Today is release day for Book 4: A Fistful of Dreams. It's Buck's story, and continues the family saga for the Kanes and Morning Stars.
What do you think? Are mash-ups dead?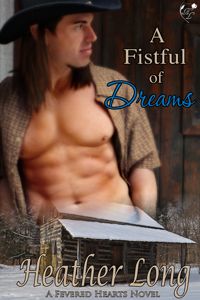 All Romance eBooks
Amazon
Barnes and Noble
Smashwords
When the spirit fever struck a town, a village or an outpost, it left few if any survivors. The white man blamed the Indian saying they used their mojo on them. The Indians blamed the white man for angering the spirits. The survivors knew it didn't matter. The Fevered were forever changed.


Rebuilding Dorado is only the first challenge…
Surviving a vicious attack by their enemies and an outbreak of the Fever has left Dorado in ruins and the Flying K under siege, now all their resources are devoted to rebuilding their town and protecting the newborn Fevered in their midst. Buck Morning Star and his siblings divide their time between training their new family members and avoiding the threat of detection the arrival of soldiers constructing a new fort pose, but the spirit walker's dreams are haunted by Delilah. But when Jason Kane threatens to come between them, Buck's obsession may drive him to madness.
Her secrets could destroy them all…
Rescued from a whore house in Fort Courage, Delilah Rinaldi never expected to find a sanctuary populated by Fevered and their allies. Silent since her arrival at the ranch, she longs to believe in Buck and the passionate dreams they share. But she keeps dangerous knowledge of the enemy hunting them all close to her heart—information Jason may reveal and cost her the only home and man she loves.
Primitive, primal and provocative, their struggle is intensely personal…
Close contact arouses a soul-stirring passion and love. But it may not be enough to sustain a relationship forbidden by their power and the tempest it can unleash.
His dream. Her words. Their destiny.
Learn more about
Fevered Hearts.