October brings crisp, cool nights, black cats, and orange pumpkins. I decorate for Halloween almost as much as I decorate for Christmas. Ghosts, headless horsemen, witches and black cats haunt every flat space in the house. I've even been known to put up a few cottony spiderwebs.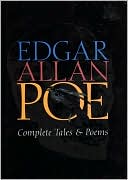 But what I truly love about this time of year is opening the barrister bookcase and removing my old hardback copy of The Complete Tales and Poems of Edgar Allen Poe.

Any other time I start reading Poe, my friends worry because they think he dwells too much on death.

Yes, he refers to death but his writing makes you think. There is sorrow but also a deeper more powerful feeling of hope.
Take
Annabel Lee
for example. While Annabel Lee was taken from the narrator…he believes in his heart that no matter what the world throws at them…their love will outlast everything. Even death.
In
The Premature Burial
, Poe gives examples of different conditions which have resulted in someone being buried alive. It is almost a scientific study and yet you feel the dismay and desperation of each person who wakes to find oneself entombed. And by the end of the essay you are left with the message that you can study something to death. Life needs to be lived to the fullest.
Besides the joy of reading the stories, there are other happy memories tied to this book. My Great-Aunt, a former English teacher, encouraged my love of books with gifts of Nancy Drew, Shakespeare, Alfred Hitchcock, and Edgar Allen Poe. Girl Scout campfire stories of The Tell-Tale Heart and The Black Cat. And old movies (The Masque of the Red Death, Pit and the Pendulum, and The Fall of the House of Usher) starring Vincent Price whose voice chills even at the height of day.
Aside from the psychological thrillers, creation of the detective story with
The Murders in the Rue Morgue
, Poe created poetry that stays with you. Now I am not a poetry lover. I couldn't create a limerick to save my life and I'd need to pay my kids a dime to find a rhyme. But I can remember Poe's poems. Annabel Lee with her Kingdom by the sea,
The Raven
and his Nevermore, the eyes in
To Helen (I saw thee once)
or the sand in
A Dream Within A Dream
.
No matter what medium he used, Poe created images with his straight-forward, concise writing. And while many stories showcase the struggle with death, there is a spark of life – of hope in every story. Aside from Alfred Hitchcock, there is no better writer to read at Halloween. Because while we decorate with witches, vampires and black cats…our children, the future of our race, go around town with smiles and tricks for all the ghouls and ghosts out there.
Beth Caudill is the author of paranormal and fantasy romance short stories. Her last release is a werewolf novella from Whispers Publishing titled
Healer's Fate
.
Please view her
website
for release information and excerpts.
Leave a comment and be placed in a drawing to win a Red Heart Bookmarker.